Lamar Pointe Preserve, the newest distinctive neighborhood development in Aransas County, Texas has the delicious flavors of enchanting coastal wildlife and is an incredible, breathtaking, natural environment with blue herons, deer and sailboats as your nearest neighbors.
The entrance of Lamar Pointe Preserve welcomes its visitors and homeowners with large coastal palm trees.
The curbed streets within Lamar Pointe Preserve are owned and maintained by Aransas County.
Lamar Pointe Preserve is conveniently located three hours from Austin and two and a half hours south of San Antonio and Houston along the scenic Coastal Bend of Texas.

Lamar Pointe Preserve is one of the last bastions of truly affordable property with an irresistible destination and location.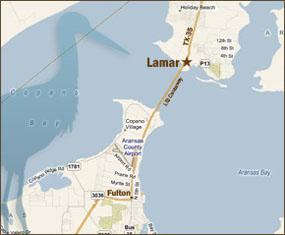 Residential development at Lamar Pointe features architecture with a coastal flair, with prices from the 20's. The lots are large, surrounded by lush greenery and a mixture of large oak and mesquite trees.
View here